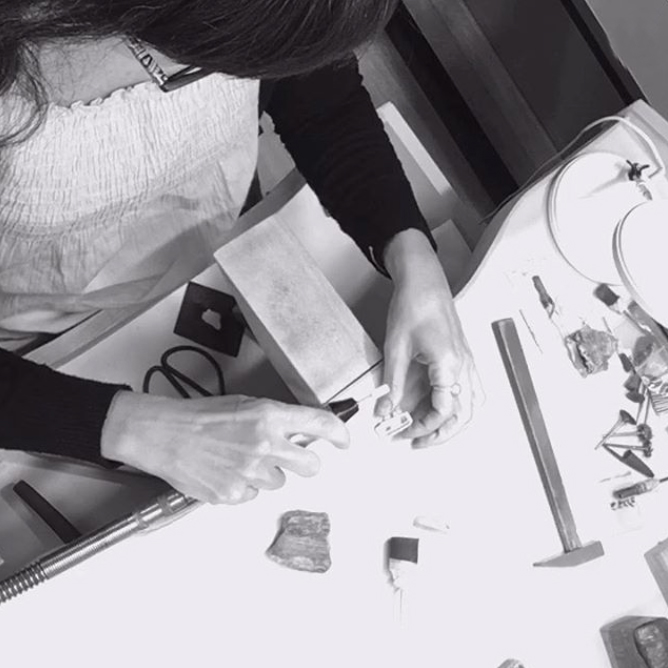 Since I was a little girl, I have been inspired by details found in nature, which I would depict
in elaborate drawings to explore the connection
between the physical and the emotional world.
After school, I studied graphic design at Vacalo School of Arts in Athens before moving to Los Angeles to continue my studies at the Art Center, in Pasadena. While studying graphic design,
I enrolled at a jewellery design course, which opened a whole new world of creative expression for me.
I started designing pieces made from wire and semiprecious stones for my friends. Their enthusiastic response inspired me to become a professional jewellery designer and in 2000, I launched "Elsa Mouzaki Jewellery".
My work explores the notion of female sensuality
through timeless designs that are at the same time luxurious and easy to wear. I draw inspiration
from my trips and the world around me, from botanical forms to sculptures in museums and architectural details.
"Elsa Mouzaki Jewellery" has been featured in various exhibitions and magazines in Greece.
In 2011, I won the Best Jewelry award in MACEF FIERRA, Milan.
I have also designed collections
for various companies and organizations,
including Vichy and the General Secretariat for Gender Equality.
Elsa Mouzaki collections are limited edition, presenting handcrafted pieces that use recycled silver and gold,
sometimes adorned with precious and semiprecious stones.
"Elsa Mouzaki Jewellery" can be found in stores all around Greece.