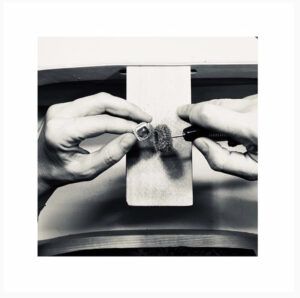 Care instructions
Keep your jewellery looking great!
Sterling silver is a precious metal and may require cleaning from time to time. With proper care, your silver will retain its beauty and character for many generations to come.
Sterling silver tarnishes, especially when exposed to salt air and products containing sulfur, such as rubber bands and some papers. However, silver that is regularly used typically needs less care, so we strongly encourage you to wear your silver every day.
Gold and rhodium plated pieces are sensitive, avoid contact with perfumes and cleaning products and take off while showering or swimming. You can brighten silver pieces that haven't been plated, by using a soft eraser on the surface of your piece by rubbing in the direction of the grain or you can wash it with liquid soap for clothes and use a soft brush. Then rinse it well and blow dry it, so it gets completely dry.
Gold and rhodium plated over a piece of solid Sterling Silver jewellery will eventually wear off, revealing the silver beneath. Earrings and necklaces will keep their plating longer than rings. Plating will wear off faster on rings that are worn everyday. To minimize the wear of plated pieces, please avoid contact with water and rough surfaces. Plated jewellery does not tarnish like silver. All stones can chip if hit with enough force or at just the right angle.
Storing your jewellery properly is important. To avoid damage, keep your jewellery in separate boxes, and fasten all chains and catches before storing flat.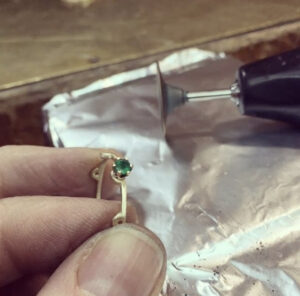 If it is cared for properly, fine jewellery can last for ever. It needs to be loved and treated well so it can be enjoyed for generations to come.
To clean your jewelry yourself, brush delicately with a very soft small brush in lukewarm soapy water, then carefully rinse it in lukewarm water and blow dry it.
Avoid any kind of contact with household bleach or cleaning products, which will quickly cause gold to discolour and possibly disintegrate. Prevent your jewellery from coming into contact with hair spray, deodorants and perfumes. Take off your jewelry when swimming or bathing.
When not wearing your fine jewellery, Store it carefully in its original pouch or box or another suitably lined box or pouch and try not to let the pieces touch to avoid scratching.
Take care to protect your jewellery from impact against hard surfaces and avoid contact with abrasive surfaces. Even a diamond can chip if hit with enough force or at just the right angle. Gemstones can scratch other gemstones and wear away at precious metals. Extreme temperatures, perfumes, cosmetics, ultrasonic cleaning and household chemicals can also damage jewellery.
To clean diamonds, use a mild solution of six parts water to one part ammonia and apply with a soft bristle brush.
Repairs and Reconditioning
We would be happy to repair or refresh your ELSA MOUZAKI jewellery. The cost depends on the condition and the requirements of each individual piece. Please email us with an image of your jewellery and state the work needed and we will quote you a price and a time frame or you can also bring your piece to our workshop-showroom for servicing.
Please note that standard repairs take between 4-6 weeks. Customers are responsible for all shipping charges for re-plating and repairs.